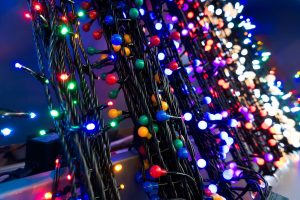 Welcome to our Annual Cranston Christmas Light Display competition!
There are two categories for you to choose to enter. Please note that you are only allowed to enter in ONE category.  Feel free to include a short story with your submission!
Category #1: Best Traditional Display
This category includes any lights-only decoration/displays.  Lighted figures (i.e. deer, snowmen, etc) are acceptable in this category as long as they are illuminated by traditional stranded lights.
Category #2: Best "Mixed Elements" Display
This category includes displays with a variety of decorative elements included in the display.  This could include animation, sound, flashing lights, or a combination of several elements. If you have video or sound you want to show off as well, use the form sections to include website or media files. Please be sure to include your name and address in your submissions this way!
Entry deadline is 12:00 pm (Noon) December 12, 2016!
RULES
The Cranston Community Association (CCA) Board members will be the judges for this contest.  A "celebrity guest" judge of the boards appointment will also judge the entrants.
All entries must be received before 12:00 pm (Noon) on December 12, 2016 to be considered. This includes any photos, media, web links, etc. Any late entries or changes after this date will not be considered.
Judging will be completed between 7:00-9:00 pm than December 12 2016, weather-permitting!
All entrants agree to abide by the contest rules. By entering this contest, you are hereby giving the CCA express consent to publish the names of the entrants, their addresses, and pictures for use on our website and social media platforms. We will publicize the entries on or before the December 12, 2016 entry deadline.
You further agree that a photograph of the CCA Board presenting the winning sign can be taken and will be published.
We are not responsible for lost, duplicate, incomplete, or misplaced entries.
Limit of one (1) entry total per household.
Winners will be contacted by Monday, December 19, 2016 and awarded a prize (not exceeding a value of $100), and yard sign to display for their respective categories. There will a total of three prizes: Best Traditional Display (1 winner), Best Mixed Elements Display (1 winner), and a Participation draw from all remaining entries (1 winner). You are not eligible to enter more than 1 category, and there will be a single draw after the initial categories have been selected.
Please ensure we have your correct contact information, and you will be in town in order to be reached! The winner's names will be announced and published once all the winners have been contacted. Should the CCA Board be unable to contact the winners via email and/or telephone after December 19, 2016 may result in another winner being contacted.
We look forward to viewing and sharing your creative entries with our community!